Millions of people practice Qigong (pronounced "chee-Gong") every day.
Pronounced "chee-Gong", this energy balancing technique has supported the health needs of the Chinese people for millenia. Today, this healing practice is accessible world-wide to anyone that's willing to learn. Even your pets can benefit!
Do you suffer from migraine headaches? There are Qigong techniques that may relieve that. What about arthritic joint inflammation? A weakened immune system? High blood pressure? Constipation? Does it stress you out knowing that you deal with a bout of Bronchitis every year?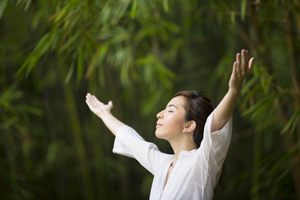 Qigong is an evidence-based, scientifically researched complementary practice that's powerful because it teaches you how to help yourself heal. It's a mind-body-spirit practice that integrates right posture, breath techniques, slow movements, self-massage, sound, focused concentration, and positive intentions to support your healing journey.
By choosing to practice Qigong exercises, you choose to stimulate your body's natural healing abilities. All you need is an open mind and a desire to give something new a try.
What is Qigong?
Qigong is a simple practice that teaches you how "qi" moves in your body so that you can take an active role in your physical, emotional, mental, and spiritual healing journey. Some see performing Qigong exercises as a methodology to control elemental life; For others, it's an expressive art form, meditation within movement, that reveals life's secrets. We believe it can do both. At its heart, Qigong is the study of the flow of energy, life force really, in your body and throughout nature.
What is Qi?
Qi is energy, life force. Some say it's in the air we breathe. Some say it's our breath itself, the subtle intelligence that powers life.
What is Gong?
Gong is work. It's the practice of moving Qi. It's what we do to transform, cultivate, and refine the Qi energy. It's what we do to learn to control and then direct our Qi.
Therefore, Qigong is the work of moving Qi around within your body with the goal of getting or staying energetically balanced. When qi flows smoothly in the body, you feel great. Life's good. When qi doesn't flow so smoothly, you don't feel so great. In fact, when qi flow is blocked, your physical, emotional, mental, and/or spiritual well-being may be compromised.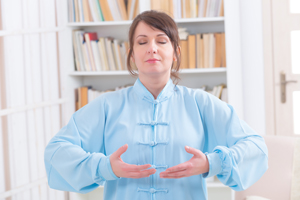 Daily practice is simple. It's also deeply relaxing. When you practice a Qigong exercise or healing technique, the slower you practice the movements, the better. Slow, repetitive movements warm muscles, tendons, and ligaments. Qigong exercises are not about sprinting to the finish line. Qigong exercises are about developing self-awareness. Qigong exercises help you to answer the question, "What's going on inside me, right now?"
Qigong exercises are low impact. Even if you can't stand up to do the techniques, you can still obtain benefit. Just do the techniques while sitting. And if you can't sit very long, then you can lie down. Success involves doing 3 things: breathing rhythmically, moving slowly (as much as you can), and focusing your mind on what you're doing in the moment. That's it.
What Health Challenges can doing Qigong exercises assist you with?
Here are just a small sampling of concerns that research has shown that Qigong exercises may address:
Chronic Pain
Depression
High Blood Pressure
Low Back Pain and Sciatica
Migraines
Balance
Osteoarthritis
Stress
Cancer
Parkinson's Disease
Inflammation
If you're interested in just some of the evidence-based scientific research validating Qigong as a means of healing, here are links to 10 studies and their outcomes about the benefits of Qigong. Enjoy.
modulation of gene expression and epigenetics from affects of Integrative Medicine, reductions of chronic pain and depression, reduction of inflammation-related gene expression, reduction of fibromyalgia symptoms, management of Type 2 diabetes, improvements in hypertension, management of arthritis and depression, cancer management, improving brain health, reducing chronic fatigue syndrome and depression in women
To book a session, please click the button.
Session Information