What is HeartMath®?  HeartMath® is a nonprofit institution focused on helping people reduce stress, increase resilience, and unlock intuitive abilities to make choices that support balanced health and well-being.
To lend our support to their mission, we certified as HeartMath® Coherence professional practitioners and now apply the HeartMath® System of tools, technologies, and evidence-based research to help you, our clients.
How can the HeartMath® Coherence help you?  We  know that 60% to 80% of primary care doctor visits are related to stress, yet only 3% of patients receive stress management help.*  In our practice, we regularly see how daily stress leaches energy and dampens clients' capacity for patience and compassion.  Working with the HeartMath® System of coherence techniques and technologies, we provide clients a pathway to take control of the stress response and to remember, reinforce, and renew the caring human qualities that stress depletes.
Stress happens.  Obviously, no one is immune. We're right up front with you and let you know that the goal isn't to avoid all stress.  The goal is to control your response to it.  Never let stress idle.  Deal with is ASAP.  Using the HeartMath® System of coherence techniques and smartphone-based technology makes getting control of your stress easier because you actually see how you improve.
How do we help you using the HeartMath® System?
The first step is to understand that positive emotions are good for you.  Positive emotions produce smooth, uniform heart rhythms. They renew your energy.  Stress is generally caused by negative emotions. They drain your energy and produce ragged, constantly changing heart rhythms.

Using HeartMath® techniques and smartphone apps, we show you specific highly effective mind-body techniques using visual biofeedback, that directly affect your heart-rate variability by interrupting and slowly controlling your typical stress response.  HeartMath® coherence brings mind, body, and emotions into balance.  These techniques are easy-to-use and even easier-to-implement whenever and wherever you need help dealing with challenging events and situations.  Consistent practice puts you in control of how you respond to life's events.
If you're interested in just some of the evidence-based scientific research validating HeartMath® as a means to health and healing, here are links to 9 studies and their outcomes about the benefits of HeartMath® coherence techniques on heart-rate variability (HRV). Enjoy.  HRV: new perspectives on physiological mechanisms, Coherence: bridging personal, social, and global health,  A healthy heart is not a metronome, Practical Guide to Resonance Frequency Assessment for HRV Biofeedback , Heart rate variability in elite American track-and-field athletes,  Comparative Study of the Impact of Active Meditation Protocol and Silence Meditation on HRV and Mood in Women,  Effects of a 12-Minute Smartphone-Based Mindful Breathing Task on HRV for Students With Clinically Relevant Chronic Pain, Depression, and Anxiety  and * When Physicians Counsel About Stress: Results of a National Study
Doc Childre, the founder of HeartMath® Institute, has written a free booklet De-Stress Kit for The Changing Times, that provides a few simple practices that help people intercept and manage stress during this period of challenge and uncertainty. Click the image below to access this free booklet.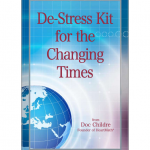 If you're interested in using HeartMath tools to control and reduce your reactivity to stress, we'd love to assist you.
Session Information