"The purpose of meditation is personal transformation."* We couldn't agree more. Meditation therapy seeks to transform your body, your mind, and your spirit. Just about every week new scientific research is published illustrating how medical technology like fMRIs and EEGs are being used to scientifically validate the benefits of active sitting.
Active Sitting? Sounds like an oxymoron, right? But it isn't. Another way to look at what happens during meditation is: Body asleep, Mind awake.
Meditation is a process. It's an active form of mind training. It's practiced all over the world. Generally, meditators sit and focus on the breath. With practice, respiration slows and random rapid-fire thoughts decelerate. Control of the mind is gradually achieved, allowing the body and brain to rest.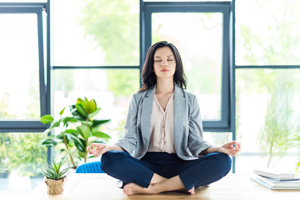 Why should you embark on a meditation practice? What are its benefits? Research as shown that . . .

Meditation reduces physical and psychological stress.
It benefits cardiovascular and immune health.
It helps relieve subjective levels of personal and social anxiety and depression.
Can help with addiction.
It slows aging.
It improves your ability to focus.
Prolonged concentration on tasks gets easier.
It protects your brain as you age.
Meditation increases self-awareness.
It increases happiness.
Ultimately, only you can heal you!
There is lots of evidence that the benefits are available to anyone committed to improving their health. And you don't have to wait 20 years to experience these benefits. Research and personal experience of millions of meditators indicate just a few weeks of meditation therapy produces positive changes in the brain and mind-body.

Want to see the research?
If you're interested in just some of the evidence-based scientific research validating meditation therapy as a means to health and healing, here are links to 12 studies and their outcomes about the benefits of meditation. Enjoy. increases brain volume, increases immune function, decreases inflammation, increases emotional intelligence, promotes compassion, improves introspection, improves memory, improves creative thinking, decreases anxiety, decreases depression, decreases pain, modulation of gene expression and epigenetics from affects of Integrative Medicine
*Henepola Gunaratana, Ph.d, a Sri Lankan Theravada Buddhist monk and multi-published author of books about meditation.