"The purpose of meditation is personal transformation."* Here at Healing Solutions, we couldn't agree more. Meditation therapy seeks to transform your body, your mind, and your spirit. Just about every week new scientific research is published illustrating how fMRIs and EEGs for example, are being used to scientifically validate the benefits of active sitting.
Active Sitting? Sounds like an oxymoron, right? But it isn't. Another way to look at what happens during meditation is: Body asleep, Mind awake.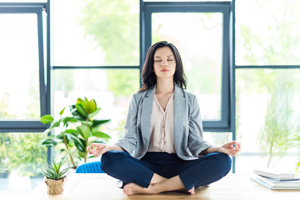 Meditating therapy involves a process. It's an active form of brain training. It's practiced all over the world. Generally, meditators sit and focus on the breath. With practice, respiration slows and random rapid-fire thoughts decelerate. Control of the mind is gradually achieved, allowing the body and brain to rest.
Why should you practice meditation therapy? What are its benefits?
Meditation reduces physical and psychological stress.
It benefits cardiovascular and immune health.
It helps relieve subjective levels of personal and social anxiety and depression.
Can help with addiction.
It slows aging.
It improves your ability to focus.
Prolonged concentration on tasks gets easier.
It protects your brain as you age.
Meditation increases self-awareness.
It increases happiness.
Give Meditation Therapy a Try!
There's a lot of evidence that the benefits are available to anyone willing to practice regularly. And you don't have to wait 20 years to experience these benefits. Research indicates 6-8 weeks of meditation therapy produces positive changes in the brain. Major companies like Apple, Google, and Target are now providing employees with meditation training. So are many urban school systems as they try to decrease violence and absenteeism and increase rational thinking and self-control.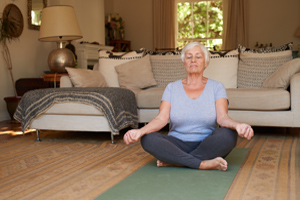 If you have 10-20 minutes in the morning or evening (or both), why not see how it goes? If you're interested in a coach, we'd be happy to consult with you to get you started. We have been meditators for more than 20 years now. Or you can…
Choose a quiet spot where you won't be disturbed by electronics, animals, or people.
Sit in a comfortable position with your spine straight. You don't have to sit on the floor.
Relax your muscles from head to foot.
Focus on your breathing.
Choose a word to repeat, like a mantra, that makes you feel calm, e.g., Peace or OM
Quit worrying. Let your thoughts come and go.
Just to be Clear . . .
You can sit any way you want. Lotus position is not mandatory (FYI, lying down isn't recommended for beginners because you'll most likely fall asleep).
You don't have to start with an empty mind. Most of us find our thoughts are way too jumbled and chaotic. Meditation actually helps with that
Start with small segments of time and slowly work your way up. No one's monitoring you but you. If five minutes of meditation therapy is where you start, great! One day, you'll find yourself doing eight minutes, then ten
You also don't have to chant in Hindi though saying a word like peace to assist your focus on the breath helps some people. You don't have to be Buddhist, or Hindu. Your religious affiliation doesn't affect your ability to practice meditation therapy unless you want it to
What you're doing is active sitting. Meditation is about increasing your self-awareness, improving your health, and learning to live a happier life.
If you're interested in just some of the evidence-based scientific research validating meditation therapy as a means to health and healing, here are links to 12 studies and their outcomes about the benefits of meditation. Enjoy. increases brain volume, increases immune function, decreases inflammation, increases emotional intelligence, promotes compassion, improves introspection, improves memory, improves creative thinking, decreases anxiety, decreases depression, decreases pain, modulation of gene expression and epigenetics from affects of Integrative Medicine
General Information about Meditation Consultation Sessions
To learn about session protocols and timing, please click the button.
Session Information
*Henepola Gunaratana, Ph.d, a Sri Lankan Theravada Buddhist monk and multi-published author of books about meditation.